Amazing Homemade Gaming PC Setup
Below is my exact PC, that I had custom built for 600 Euro (around $800).
It plays all the latest games with ease, from Rust to Dying Light, Grand Theft Auto to Tom Clancy's Six Siege.
I even have Three monitors hooked up to it and this is how I play Rainbow six siege (massive edge being able to see what's by the side of you).
Not to mention this is the PC I use to edit all my videos on YouTube and it does it flawlessly, even while showing YouTube videos and 20 + tabs on my other screen at the same time (I'm an ADD PC user).
Let's skip the small talk and let me show you what this gaming PC is packing.
You will want games for your PC setup, be sure to check out the GREATEST ARMY games ever made.
At the time I bought this PC I'd just moved and was saving up money so I didn't go for an I-7 processor but to my surprise, this I-5 packs an awesome punch and is totally future-proof to play upcoming titles at medium-high settings.
Not only that, the price is half of the cost of an I-7 and I personally don't notice any difference with the I-7 and I-5 while editing, working, watching films, etc, however, I guess gaming on games the utilize large amounts of processing power the I-7 does shine.
If you want to pick it up the best price, be sure to get this I-5 6400 here.
Price: $141
Reduced from $219 from when I first wrote this article.
I don't over think the motherboard while getting a PC and even though a good motherboard is necessary for future proofing a PC, but just like everything on a PC you can always upgrade later and with this MSI board I don't think there will be a single need to upgrade anytime soon, as the features are perfect.
If you feel like mixing up the motherboard, then you can pick any as long as it supports DDR4 RAM and a DVI-D video card.
You can pick up this MSI motherboard here at the best price online.
Price: $64.99 (Updated: Reduced from $69.99)
The AMD R9 380 is a beast of a graphics card.
It's by far my favorite graphics card to date and it's beat all of my past Nvidia cards (that didn't cost $500 or more).
It's works flawlessly with the I-5 6400 and that mix has allowed me to play all the latest games on high settings with no issues.
You can pick this AMD GPU up at the best price online there.
If you want something Nvidia at a similar price you could get the GTX 970 which I've heard is an amazing card, but a little more costly, for no major increase in performance.
Price: $150 (Update: reduced from $250)
So far I've done just fine with this Kingstone 8GB DDR4 ram, which in my opinion is some of the best RAM money can buy.
However, I know some of you out there are RAM lovers and want over 16GB and if that's you for an extra 65 bucks you can make that 16 gb of the tightest RAM around, which is super badass.
The performance this ram has on Editing, gaming and everyday browsing is the reason I can never go back to my gaming laptop, which now looks like a piece of poop in comparison.
You can grab this high-grade RAM over here at the best price I could find online.
Price: $68.99
SSD drives are the only way to go in my opinion.
Why?
The speed SSD drives allow you to access your data is extraordinary and that in its self is enough of a reason to replace your standard disk HD with them.
However, you also get a rocket speed application start up, along with a speedy OS bootup.
Which is ideal if you're like me and work on a PC all day and hate wasting time while apps/PC start up.
What about the space you lose?
You have two options, get Two SSD at 250 gb and have them, that's 500gb of space at awesome speed, or you could install your OS and important apps on the SSD and install a 1/2TB disk drive and store all your games there.
Finally you could do what I do and invest in 2 SSD drives and one 1000 GB hard drive for backups, games, etc.
You can grab this awesome SSD here at a BARGAIN price.
Price:  $69.99 (Reduced from $80)
There's not too much that can be said about the power other than this 750W unit is an awesome power supply, that gives you plenty of power for now and for the future upgrades you may end up getting.
Price: $69.99
People go much harder on CPU cooling than I do. I've got this fan and I live in Spain where in the summer it hits 40 + degrees and this PC works perfectly.
Now I'm not saying that Liquid cooling isn't the way to go and I might be heading down that road soon, but right now this budget cooler is doing the job perfectly.
Price: $9.95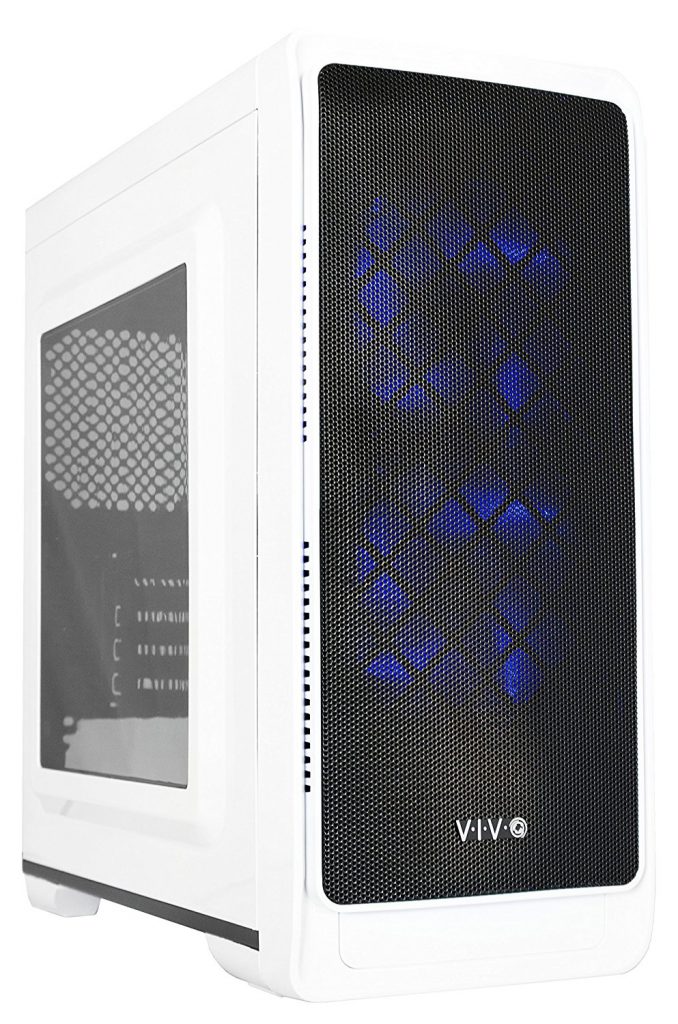 Gaming cases are really down to you.
I recommend getting some a little bigger than you need, due to how big certain components are getting and the bigger your case is the more upgrade possibilities await you.
Plus it's far easier to put all the above together when you have a big case.
Price: $44.99
My Current PC Setup
There you have it, this is what my current PC setup looks like.
I've been working with this exact system for over a year and I've found it absolutely incredible, as a gamer it has me covered and it allows to complete all my work far quicker than any laptop.
Top 5 Ready Made Gaming PC's
Some of us DON'T want to build our own PC and for them people out there I've listed some of the BEST BARGAIN PC deals I could find down below, so if you're looking for a clean, budget PC for under $850 then here you go:
This beast comes with an I5 7400 process, with the AMD RX 480 and 8GB of class DDR4 RAM.
I honestly couldn't believe my eye's when I saw this deals and in true honesty, I'd more than happily pick this Desktop up as the money you'll save is incredible and for 38 bucks you can get 3-years protection (which is AWESOME).
You can grab this desktop here at $400 off using this link.
Price: $699
I had to mention two CyberpowerPC's as they come at a fraction of the price of their competition.
Just look, you get an AMD FX-630, R7 250 graphics card, 1000 GB HD and 8gb of DDR3 RAM, all for $559.99, I mean that's crazy.
Personally, I'd always choose the one above as a gamer, but if you're looking for a more casual gaming PC, to work on this one is perfect.
You can get this at the cheapest price online using this link.
Price: $559.99
As a brit I go crazy for anything Alienware, however, due to the crazy TAX I'd be lucky if I got this PC for $1300 :(.
However, if you live in America you can grab this absolutely EPIC deal and get yourself the Alienware X51 with an I5 process, 8GB of Ram, 1000 GB hard drive and a GTX 745 which is an awesome graphics card all for $800 with Windows 10 included.
I mean that's cray, cray… Am I right?
If you're feeling a little spendy you can even bump it up to the GTX970 for an extra 200 bucks.
That's what I'm talking about!
Price: $799.99
This is somewhere in between the gaming PC's above.
It comes with the FX-6300, which is a solid process, however not the best gaming CPU, however, you do get a GTX 1050 GPU which is one of the most kick-butt graphics cards around.
On a side not you also get 8GB of RAM, with 1000GB HD and Windows 10, which you really can't turn your nose at.
If you'd like to grab this awesome deal then go here.
Price: $679.99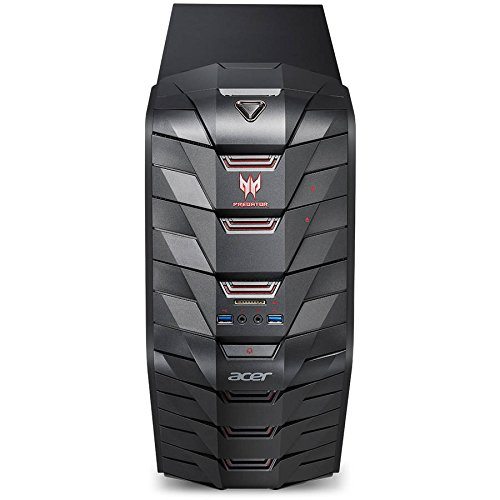 I'll end this with another INCREDIBLE DEAL!
This is the Acer Predator and it comes packing for the GTX 1060 3GB version, which is an amazing GPU.
On top of that you get a 128GB SSD drive with Windows 10 installed and a 1000GB hard drive for your games, aswell as 8GB of high quality RAM and an intel 6400 processor, I mean that's BADASS.
All of this for the CRAZY price of $850, now even if you built this from scratch you'd still be looking to spend $1000, so GRAB this bargain, if you really want something out of this world.
You can get it at the CRAZY price of $850 using this discount link.
Be quick as the stock on this Desktop is running out.
If you're looking for a gaming laptop I did this video on the best gaming laptops at the best prices online.
You can find awesome laptops which can play almost any game at around the $800 mark, so if that's your thing check it out.
Hope you enjoyed this, let me know your gaming setup in the comments below.