A keyboard wrist rest! That is right today I am sharing with you what I feel is the best keyboard wrist rest is. A keyboard wrist rest is essential if you spend a lot of time working on a computer.
I am not just talking about gaming. If you work in an office or do any kind of job that requires a lot of typing a keyboard rest is great as it takes a ton of stress off your wrists and you will notice your wrists are far less achy when you have finished working or gaming.
I have an amusing story about how I first started using a keyboard wrist rest. Was it because I had an all-night gaming session? Nope. Was it because I needed one for work? Nope. Well actually work ties into it. Back in 2004, I worked in a video game store and my boss found a ton of old Nintendo 64 era Nintendo wrist rests and let the staff take them home.
I used one and noticed that my wrists no longer ached after I had finished on my computer so I was a devote wrist rest user from then, all thanks to the Bowser wrist rest I got for free!
The Best Overall Keyboard Wrist Rest

Price checked on the 31st January 2023 get this amazing wrist rest here for the best price.
The Bowser Nintendo 64 wrist rest I had may be long gone, but the Glorious Gaming Wrist Pad/Rest is the best one you can buy right now.
You can get this for a little over 20 bucks and I assure you that once you get used to using this you will be amazed at how better your wrists feel. There really is no going back to gaming or working on a PC after you have used this wrist rest.
Why This Is My Favorite Wrist Rest
There are a few reasons as to why this is my favorite wrist rest and why I feel it is worth you throwing 20 bucks at.
Nice and comfortable
A wrist rest is not worth your time if it is not comfortable for extended use and the Glorious Gaming Wrist Pad/Rest is very comfortable. It has a foam interior that is both firm and soft. The idea here is that it provides your wrists with just the right amount of support that you need. I have spent hours playing Stardew Valley on my PC with this and never had any kind of discomfort. The bottom of it is made with non-slip rubber so you do not have to worry about it moving all over your desk.
It Will Last You A Long Time
Remember the N64 wrists rests I was telling you about? Well, those were as cheap as they came. They wore out very quickly and the stress of the weight of my wrists caused these permanent dents on it which stopped it being comfortable. I have been using this for a while now and never had any problem like that. This is going to be with you for the long haul. If you use a computer for work, you are easily getting a few years out of this.
You can clean it
While inside the wrist rest is foam. It has a hand washable surface. This surface is nice and soft, but it is great being able to take it over to the sink to give it a clean every now and again. Your wrists get far more sweaty than you think and being able to keep it nice and clean is something that I really like.
It comes in different sizes
While the full sizer version of the Glorious Gaming Wrist Pad/Rest is the one I am recommending. They actually offer this in a variety of sizes They offer a more slim one and also a compact one if you use a small tablet. So no matter your needs you will find the right size of writ rest for you with this model.
---
Why You Need To Get A Wrist Rest
I already gave you some information about why a wrist rest is a good purchase, but here are a few actual reasons as to why you need one.
They keep you going
You ever noticed when you are working or gaming for a while, your wrists get super sore and achy? Well, this is due to the weird angle that they are at when using a keyboard. When you have a wrist rest giving you that extra support, your wrists do not get as much strain on them and therefore do not get as tired.
Less Irritation
The wrist rest that I recommended is made with a material that is designed to not cause any irritation. Constantly having your wrists and forearms rub off the desk can be very uncomfortable and cause irritation which
Stand Back Carpal Tunnel Syndrome
If you work on computers a lot or play a ton of video games you will have no doubt heard about the risk of carpal tunnel syndrome. A wrist rest can actually be the first step in preventing this kind of strain that can lead to carpal tunnel syndrome from happening.
---
Other Wrist Rest Recommendations
While the Glorious Gaming Wrist Pad/Rest is the best wrist rest that I have ever used here are some other recommendations for you guys to consider.
---
Budget Friendly: Memory Foam Wrist Rest

Price checked on the 31st January 2023 get this  Gimars Wrist Rest here for the best price.
The Gimars Memory Foam Set Keyboard Wrist Rest Pad & Mouse Wrist Rest is a great deal. It comes in at only ten bucks which for a wrist rest and a mouse pad rest is fantastic value for money. It is made from memory foam so it will be comfortable for extended use. The covering is nice and smooth and you can hand wash it if it ever gets a little grimy.
If you are on the fence if a wrist rest is something that you will actually benefit from (trust me you will) then spending only ten bucks is a great way to see just how much more comfortable using a computer is with one.
---
Highest Quality: Memory Foam Wrist & Mouse Support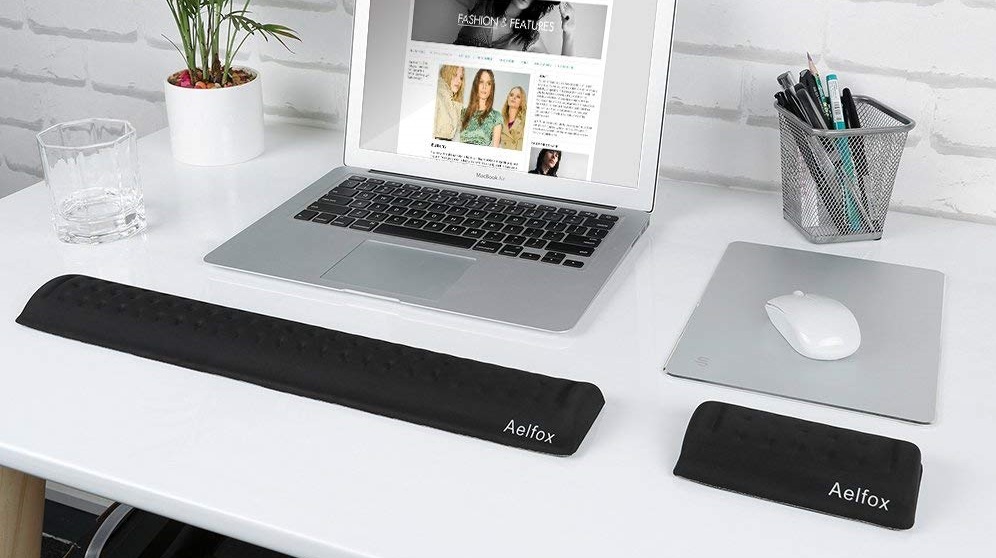 Price checked on the 31st January 2023 get the Aelfox wrist rest here for the best price.
While I have not personally used the Aelfox Memory Foam Keyboard Wrist Rest&Gaming Mouse Pad Wrist Support it is regarded as one of the highest quality wrist rests on the market right now. Like the budget-friendly one we just looked at you get both the wrist rest and the mouse pad rest in this set. This is around double the price at 20 bucks, but you are getting a higher quality of memory foam and the covering looks much nicer.
I think if you are looking to spend a little bit more money and get something that has a fantastic reputation online. This is a set that you have to consider. While I am more than happy with the one that I purchased, I would actually love to take a look at this. If you spend a ton of time on the computer, I really think you would be happy with this.
---
Breakdown
I am a huge advocate of a wrist rest and honestly no matter if it is for work or gaming, I use one.
My wrists ached all the time before I first used one over a decade ago, but I just blew it off. Now though, I never have that problem and hopefully thanks to my years of using one, I will not have any carpal tunnel syndrome issues or have my wrists sound like cement mixers (like what happened to Bart Simpson!) and in general not have any ill effects from spending hours on the computer.
While I think the Glorious Gaming Wrist Pad/Rest is the very best of the best. Even if you test the waters with a cheaper wrist rest I highly recommend you try one out.