The days of sitting on a metal chair hunched over some hand me down desk to do your gaming on are long gone.
Gaming desks are big business these days and I am here today to show you that you can get a lot of bang for your buck with a gaming desk and you do not have to spend as much as you would think to get a cool, functional and comfortable setup for your gaming.
So if you are in the market for an awesome gaming desk, keep on reading and see what blew me away and took my gaming to the next level.
The Best Overall Gaming Desk I've Used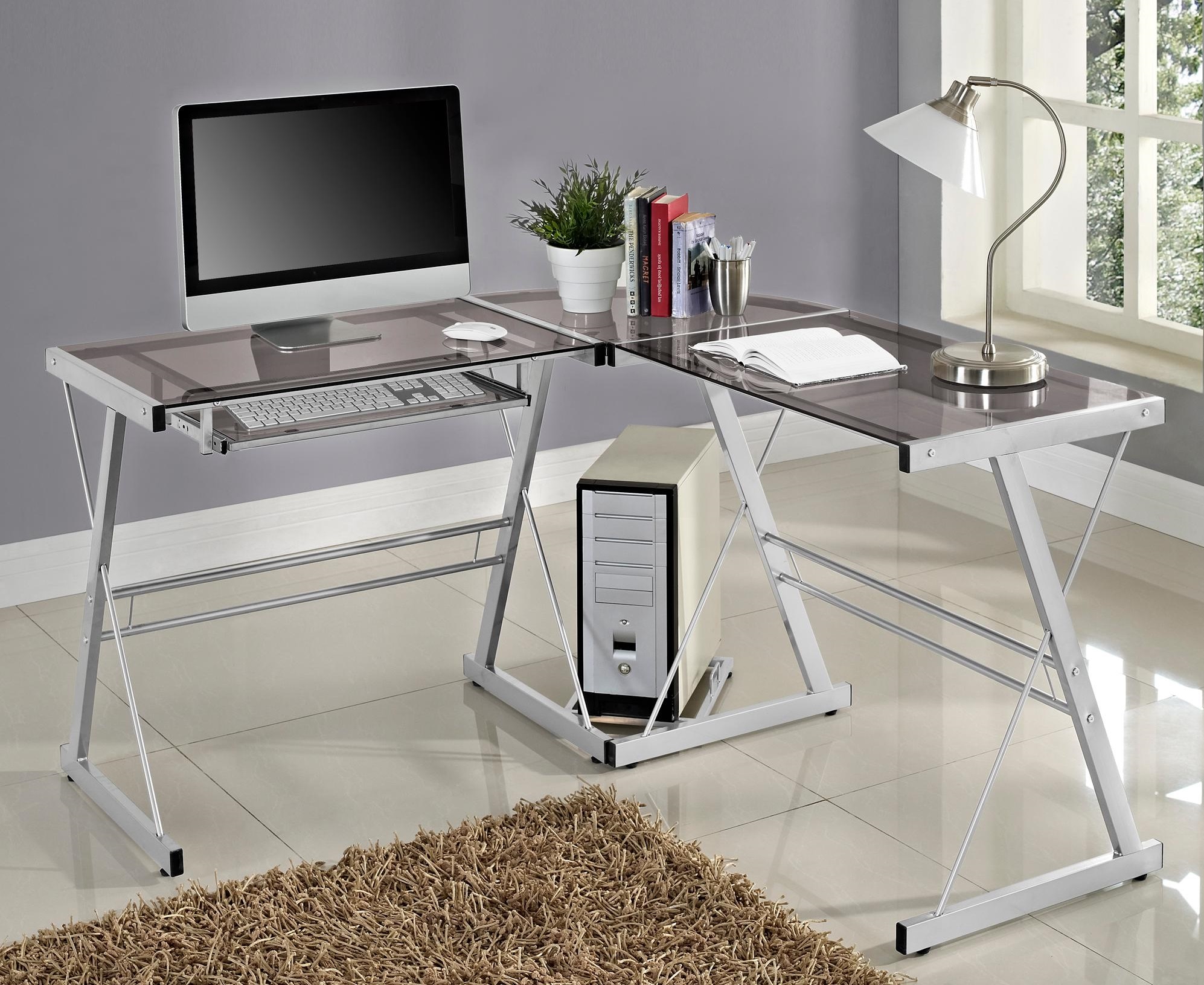 Here we have the Walker Edison Soreno 3-Piece Corner Desk which is a very sexy and functional desk which will look awesome in your home, but also provide you with all you need for some comfortable gaming. This currently can be picked up for around the 100 bucks mark which if you ask me is a steal and a huge reason as to why I am so happy I got this desk.
I price checked this gaming desk on the 31st January 2023 and found the best price for this gaming desk here.
What Makes This Desk So Awesome?
Let's start with the obvious the desk looks fantastic. Rather than the same old boring wooden desk that you have seen a million times before.
The Walker Edison Soreno 3-Piece Corner Desk is made with a solid steel frame that looks incredible. The top of the desk is made with these very sleek looking black glass which makes it look incredibly modern and hip. If you like your gaming environment to be "cool" you do not get much cooler than this desk.
Also, I feel that the asking price of this desk is more than fair. I have seen desks priced at way over what they are asking for this one and they do not even come close to matching this one here.
---
The Best Features Of This Desk

While the desk looks cool and will not make your bank account cry. I wanted to talk about what makes this such a great desk for an all-night gaming session.
First of all the design of this desk allows you to be very creative with how you organize it. I have my gaming PC sitting on the floor under the square table portion of it.
This keeps it out of the way and prevents me from accidentally kicking it, but it is always in reach if I need to get to it.
This design lets you have an area for writing as well as gaming which is something I actually got a lot of use out of and of course you can have more than one monitor if you desire. A sliding keyboard tray is also included, but I am more of a keyboard on the desk kind of man.
The support structures of the desk make it very solid and not wobbly like some other gaming desks are. One thing that sounds kind of weird to get excited about, but it is a feature I really liked is the feat.
These prevent the desk from sliding all over the place. My desk sits on laminate flooring and it still does not slide and the feet also prevent it from scratching up my floor which is great and saves me an earful from the wife.
I am also not the most technical minded guy on the planet, but I had no trouble putting this together so I am sure you guys will be fine.
---
Upgrades To Make To This Desk
Do not get me wrong, this desk out of the box is fantastic and I really do not have any complaints with the Walker Edison Soreno 3-Piece Corner Desk I think most people will order this, set it up and be more than cool with the way it is, but if you want to kick your gaming up a few notches here are some ways you can do that with this desk.
Get Triple/Quad Monitor Setup
I can't afford that! Is what I can hear some of you guys saying, but this is far cheaper than you may think and you do not have to have four 4K monitors to have a cool triple or quad monitor setup.
For example, I bought a couple of ViewSonic 24 Inch Gaming Monitors so I could have a triple monitor setup and the two monitors came in at under 300 bucks!
You, of course, have this setup anyway that you would like, but thanks to the large size and corner nature of this desk, you can have the three monitors and still have plenty of space to draw, work or even eat while you are taking a break from gaming.
Add A Quad Monitor Stand
Now while some folks may just stand the monitors and be happy with that, if you want to really maximize the desk space then I highly recommend that you look into getting a quad monitor stand like the Quad Monitor Mount Stand.
This is the one I bought and it is great. It is affordable and it frees up a ton of surface space on your desk which if you are into writing and drawing like I am is great.
Plus having all your monitors like this lets you work on some pretty cool projects. You guys who are into graphic design will get a lot out of using a monitor stand like this.
While at first, you may just want to get your extra monitors and have them standing next to each other. If you do have the money, I highly recommend a stand like this, it costs way under a 100 bucks so the price is great too.
Using A Cable Concealer To Hide The Wires
One of the things that drives my wife nuts is cables! In my game room it is a mess of cables behind the unit there was no way that was going to fly with where I have my gaming PC so I needed to keep the cables organized.
The one that I use this Cable Management system, now to be fair any kind of cable tidy device is going to work, but I ordered this one and was happy with the results. Some may just use cable ties and think that works, but this still looks super ugly and the cables get all dusty and nasty which no one wants.
With a cable tidy, you keep all the cables nice and neat and you do not even really notice the cable tidy which is great.
You can even use them on your desk so if you have a wired keyboard, drawing tablet and whatever it is great for keeping the desk nice and neat.
If you do plan on having multiple monitors, this can be a mess of cables so one of these is a real godsend. Also, there is some kind of magic that makes cables even if you do not touch them get all tangled up which is very annoying, you do not have to worry about that with a cable tidy.
---
Other Gaming Desk Recommendations
While I am more than happy with my Walker Edison Soreno 3-Piece Corner Desk I wanted to include a few other desks that caught my attention while I was looking for the best gaming desk for myself.
---
The Best Build Quality:

 Arozzi Arena Gaming Desk
I came so close to pulling the trigger on the Arozzi Arena Gaming Desk. This is one of the coolest looking gaming desks I have ever seen and it comes in all kinds of neat designs.
The top of the desk is made with this very strong and water resistant (and also machine washable) material that is similar to what a mouse pad is made from. The overall desk as you can see is nice and thick and made from strong steel. Those thick legs will make this one very sturdy desk and it has hidden compartments that allow you to organize your cables.
This desk is large enough to have three monitors on it so that is cool. This is a desk that I really do like and if you can handle the close to 400 bucks asking price I think you will be very happy with it. If you want a desk that is solid and built to last, you are getting that with this bad boy!
---
Best Gaming Desk For Small Spaces:

Atlantic Gaming Desk
Not Everyone has the space for a large desk that can handle multiple monitors, a keyboard, mouse and a place for their Pepsi and Pringles! That is why I wanted to share with you guys a desk for those who are a little tighter on space.
The Atlantic Gaming Desk is only 26.75 inches wide, 49.25 inches long and 40.25 inches high. This may not sound like much space for an epic gaming setup, but they have been very clever with the design of this desk as each component of a night of gaming has its own space.
On the back, there is a spot for a monitor which keeps it off the actual desk. One side of this has a section for something like your phone, tablet or whatever. The other side has a spot for a couple of controllers, games, CDs and stuff like that. They even have a little spot for some speakers. A hook for your headphones and craziest of all there is even a drinks holder on the side. I drink a ton of soda when I game so if I did pick this up it would be seeing a ton of action.
I really do think that this desk not only looks cool but is very practical for those of you tight on space. Plus it costs under 100 bucks which is a very nice bonus.
---
Most Practical Desk:

Origami Foldable Computer Desk
The Origami Foldable Computer Desk is a very interesting desk and one that is very practical.
The reason that I picked this one for you guys is that it does not require you to actually build the whole thing. This desk can actually fold flat so if you have a gaming laptop that does not have a permanent spot in your home and you want a desk that you can get out and put away as you need I think this is the kind of desk that would be ideal for you.
Being able to put up and put down a desk may not be to everyone's taste, but if you do not need a permanent setup for gaming it could be a great purchase. They have made it lightweight, it does not take up a lot of space and it can be up and down in just seconds.
So while I know this may seem an odd choice for those who do not need a permanent gaming setup in their home I think this desk could be really handy. The current price for this is around 110 bucks which is not bad at all and they give you a choice of different colors which is a nice touch.
---
Final Thoughts On The Best Gaming Desk
I really could not be any more happy with my Walker Edison Soreno Corner Desk. They did a great job with this and the corner design of it really suits me perfectly. It gives me a spot to game, but I also have a lot of actual desk space that I can use for other things like drawing and writing.
If you want a gaming desk that is going to give you that extra space to also work on other projects I assure you that you will be as happy with it as I am.
The other three desks I looked at are great as well and in all honesty, the Arozzi Arena Gaming Desk came really close to being the gaming desk that I purchased.
It is built like a tank and it looks awesome as well. The Atlantic Gaming Desk is a great gaming desk if you are short on space and want a desk that has a little space for everything.
I can see you guys having a lot of fun organizing your gaming setup on this desk. And while I know the Origami Foldable Computer Desk may seem a rather odd inclusion. If you want a desk that you can put up and down super fast, you have to take a closer look at it.