I'm not going to lie, for a long time I was an Xbox fan boy and only played on the Xbox… but since the PS4's release I can honestly say that Playstation is KILLING Xbox with some of the most AMAZING exclusive games that even PC gamers are jealous of.
Whether it's Day's Gone, one of the COOLEST zombie games I've seen in a while or Horizon: Zero Dawn, the list of killer games is incredible.
Let's face it PS4 is even getting PC ports like Killing Floor and The Forest are now available on PS4, this is a pure example of killing the Xbox that has less than 5 exclusive titles confirmed for this year :O.
So I felt like it was time to show you my PS4 gaming setup that's probably one of the best investments an avid console gamer can make!
Why I think ever gamer needs an awesome game setup?
It's your work place.
I game to compete, I love winning and I buy things that will allow me to have ever advantage I can have.
I also love single players and I want to emmerse myself into a game and feel as if I'm there.
Finally, I like my room too look clean, minimalistic and like something out of the future.
Mix all this together and you get the ps4 setup I'm about to show you. It will improve your skills, get you to immerse, make your gaming room look incredible and have you feel comfort and control while gaming.
You're probably losing your mind with excitement right now, so I think it's time to show you what I'm talking about.
Then remember after you get an awesome PlayStation setup you'll need some awesome games and if you like zombies like me, then you should check out this list of the greatest zombie games ever made.
You have to start off with the base, which is, of course, a fabulous PS4 console.
I've been through the whole internet (at-least most of it) and I found the cheapest place to get a PS4 which happens to be here.
The PS4 is what you'll need to start everything off, but you have options.
If you go for a 4k display then you need the PS4 pro (find best price), because that thing looks beautiful, seriously beautiful.
However, if you're rocking a normal full HD display, then sit back down and get the PS4 I mentioned above, it'll be perfect and you'll save 100 + bucks.
As a side note you can learn how to get games at 50% off for PS4 using my cheap game finder cheap games.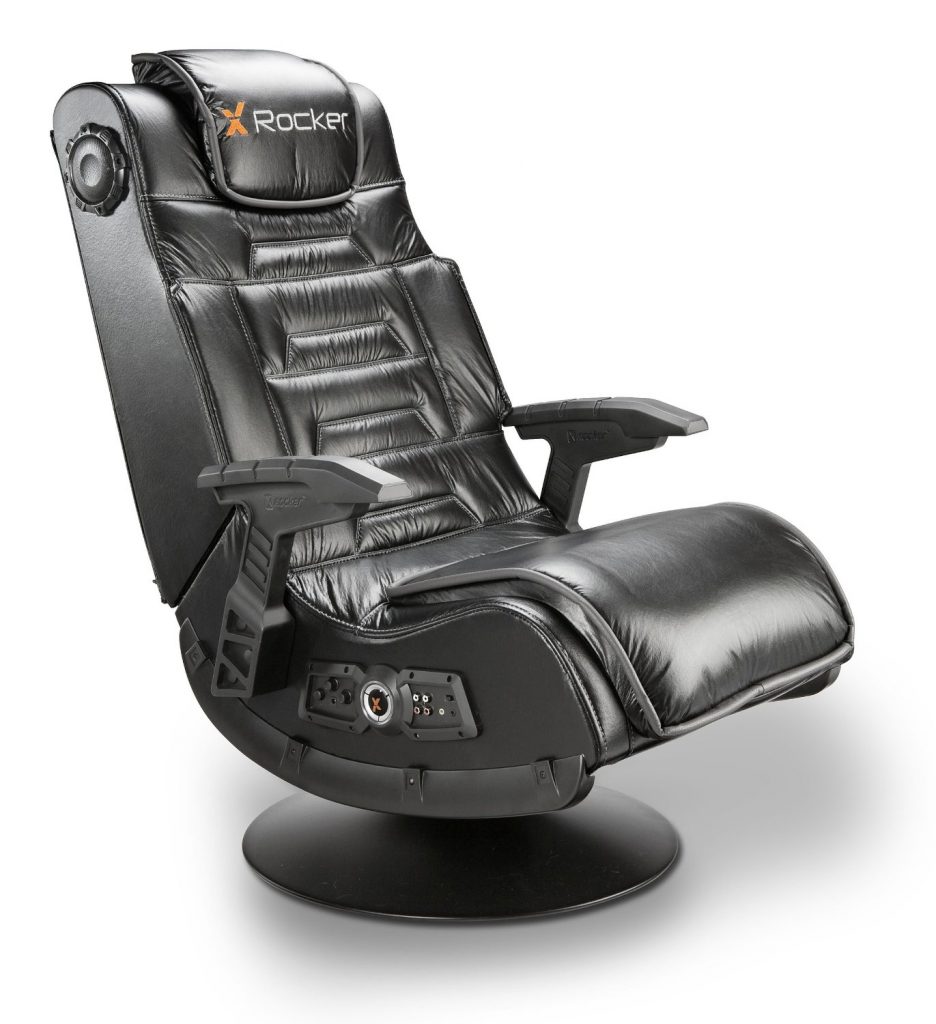 No EPIC gaming setup is complete without a CRAZY (look at me I'm awesome) gaming chair.
Let's face it the X Rocker is exactly that.
This beefy gaming chair comes with two 2.1 speakers and a subwoofer for a total sound immersion experience and one hell of a comfy design great for all-night gaming sessions.
Look, if you're addicted to gaming like me, you need to have pure comfort (that's a fact) and long gaming sessions can run into the 5-hour mark (with a few toilet brakes, or bottle breaks if you can't bear to stand to use the toilet) and if you're on a floor, a hard chair, even an office chair, your butt, legs, feet and back feel the pain.
That's why this chair really does do the job, it relaxes me, gets me into the zone and allows me to stay in place and enjoy the game well into the 5-hour mark.
This awesomeness does come at a price, but if you check out the DISCOUNT with found for X-Rocker you can get it for just $144 which is an unreal value (a saving of 100 bucks)
I'm a music man, I listen to music for at least 7 hours a day.
I've tried some of the BEST headsets in the industry, even ones costing over $400 and in all truth, these HyperX headphones, are some of the best I've used.
They knock the crap out of my turtle beach and they put dr Dre beats to shame and at the $50 price tag with features such as:
Lightweight
Comfort for long gaming sessions
Clear microphone
Compatibility with all consoles (PS4, Xbox, PC and Wii)
With Frequency response of up to 23,000 Hz (hear everything around you).
You can't go wrong.
Just saying them features doesn't do enough, you need to understand what they mean.
You can speak without sounding like you're under a waterful.
you can play video games for hours without having the feeling that your ears have started to mold to the shape of the headset you wear.
You can hear people all around you and where the sound is coming from.
Instead of being like 'I think someone's behind me', you can hear them behind you (game changer).
Finally, you can use them to listen to music on any device (super important), so it's not just a gaming investment, it's a sound investment for movies, music and gaming.
Hear them footsteps and up your game with this killer gaming headset.
These FPS Freek's increase your speed in FPS games allowing a mouse like speed and accuracy unlike anything before.
Trust me I've had a mouse in my house and them things are quick as ****.
This with the headset above give you an unreal advantage in games like Overwatch, Call of Duty, Battlefield and other intense FPS games.
This truly is a must for Serious FPS gamers as it transforms you and gives you the skill that is needed to own your friends, family members and strangers online.
When you game like me, you'll see a massive difference by just adding a simple thing like these KontrolFreek to your control.
Even the slightest advantage is a must have and for the awesome price you can't go wrong.
You can grab this pair at the best price online here.
On a side note, you can also get other KontrolFreek for different game styles like RPG and driving, so be sure to check out their whole range as they really help reduce thumb fatigue and improve speed and accuracy.
Why get this and the FPS Freeks together?
Well this grip case enhances the grip you have on the controller boosting your speed and response time.
Mix this with the KontrolFreek grips and you'll open up next level gaming skills you never knew you had access to.
It's also great for people like me who sweat a lot and have sweaty hands, my controllers get to the point they are literally a slip and slide, having this case with the KontrolFreeks on makes sweat not an issue and allows me to maintain my performance over long gaming sessions.
As I said before, you'd be surprised how little advantages like this make the biggest amount of difference.
Plus it looks and feels awesome on your hands.
You can get this control grip recommend here at $20 off.
The single best deal on this list is this incredible 32inch Curved Screen.
Anyone who's gamed on a full HD curved screen knows the advantages and will never go back to a normal monitor/tv screen.
Not only is this screen optimized for gaming and comes with a 60hz refresh rate, it also has an anti-glare screen and 20,000:1 dynamic contrast ratio making deeper blacks and brighter whites.
It gets even better, you can get all of this, for an AMAZING $299.99 here, which is absolutely crazy and with a HDMI you can hook the PS4 right up to it!
This truly is the best deal on this gaming setup article. It smashes other monitors and at that price you just can't go wrong.
However since the release of this article 4k has become affordable and I'm about to make the upgrade, so if you want 4k screen and them extra awesome graphics then you can check out the best 4k screen I've found (the one I'm getting).
If you don't fancy getting the curved gaming monitor, maybe you'll enjoy this laptop style gaming screen.
That's right a screen that allows you to take your console wherever a power supply is and game like never before.
I like to have my gaming setup where ever I go.
This may be a bad habit, but I feel lost when I'm at a hotel with nothing to do and having this portable gaming setup allows me to feel comfortable and spend the time I would have just sat doing nothing, doing something I love.
On top of that it's amazing if you have friends with consoles and what to do modern LAN parties and play games like GTA side by side like next level co-op.
This is a game changer and it literally allows you to take your gaming setup anywhere.
I mean this is what dreams were made of when I was younger and you can get this gaming screen at a discount here.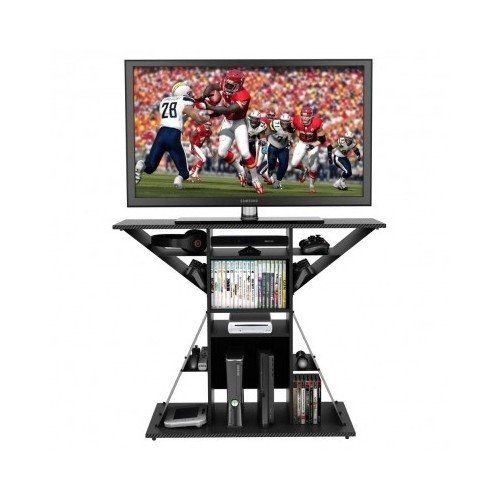 Most of you will already having a stand to put all your crazy gaming setup on, but if you don't here's an awesome budget stand that looks truly awesome and will rock the curved monitor unlike no other.
Now you can get this awesome gaming stand with place for all your games, consoles, controllers headsets, etc for an amazing 76 dollars, saving over 120 dollars using this discount I found.
This if for those of you tech nerds out there.
You may know how blue light messes up your eyes and makes it really hard to sleep at night, while also giving eye strain and there's nothing worse than eye strain for a gamer.
I mean when you find that awesome game and then start getting eye pain and nothing will stop it.
Damn that sucks.
All you need to do is pop these glasses on while you game and you'll block a lot of the bad light that causes eye strain and messes with your body clock.
This is great for people who have trouble sleeping after playing video games and is a must own for people who spend 2 hours + a day gaming.
So, protect your eyes and allow your body to release melatonin so you can get to sleep, by investing in these awesome gaming/work glasses that stop the blue light and make your eyes far healthier.
This is a must for any long-time gamers like myself and you can pick them up here for a couple of bucks.
I'm going to finish this list of with something that only I probably think is cool.
This awesome Nike Logo Shoe box cover that turns your controller and console into an awesome nike shoe box lookalike.
Obviously, this is just for the showoffs, but if you get all of the above, why not finish it off by making your console look badass?
This mixed with the TV stand and you have a sick gaming setup an amazing gaming room that looks simple, minimalistic and above all… AWESOME.
You can grab this cover and others for a few bucks here.
That finishes OFF this epic list of items that will create you one of the coolest PS4 setups around.
I'd love to hear what your idea of the best PS4 setup is so leave your comments down below.
I do my best to keep this setup updated to my current, so things will change over time.
I'll also be doing my pc gaming setup next as I've made some pretty epic changes that I think every needs to see.
I'd also like to say that I did this setup because it's awesome, budget-friendly and works.
There are a few things I missed out that just don't go with a budget-friendly setup, like VR and surrounds sound, etc, but I might add them later when costs go down.
Hope you have an awesome day, Oli.